Albert, Annabeth. Out of Character. Naperville, IL: Sourcebooks Casablanca, 2021.
ISBN-13: 978-1728226033 | $14.99 USD | 400 pages | Contemporary Romance
Blurb 
It's friends-to-enemies-to-friends-to-lovers in this LGBTQIA+ Romance for fans of Red, White & Royal Blue and The Pros of Cons.
Milo Lionetti is not a gamer. Not even close. But when a stupid bet costs him his brother's prized cards, he'll do anything to replace them before anyone notices they're gone. To do that, he'll need a little help from the best gamer he knows…who also happens to hate him.
Jasper Quigley is known for moonlighting on a popular gaming blog, but he's eager to stop playing the sidekick. The last thing he wants is to help out Milo and dredge up feelings he'd rather forget. But helping Milo comes with some perks, including getting his help running a cosplay event at the local children's hospital. All that forced proximity was not supposed to come with kissing, and definitely not falling in love…
In the series
#1 Conventionally Yours 
Review
2 stars
I received an ARC from the publisher via NetGalley and am voluntarily posting a review. All opinions are my own.
I enjoyed the first book in the series, but found Out of Character dull by comparison. The premise seemed somewhat interesting at first, with former friends-turned-enemies who form a relationship. But while the blurb does provide some hints at it, I didn't expect a romance with a sort-of former bully and victim. I say "sort-of," as while Milo didn't do anything major to hurt Jasper, he also didn't actively do anything to mitigate the hurt either. It cast a shadow over the relationship that it never fully recovered from.
This is also a book that is much darker than the cover or branding suggests. I don't expect LGBTQ+ romances to always be sunshine-and-rainbows, and appreciate those that tackle issues of homophobia and internalized self-hatred. But it also feels like a bait-and-switch to have it packaged as a rom-com with no indicator of the extent of the issues discussed, especially when this follows up on its much more lighthearted predecessor.
And beyond the issues on a general level, I found the characters hard to click with as people. Jasper was perhaps the easier to like of the two, given his situation, but while I understood where Milo was coming from, I didn't find the romance engaging with all the baggage.
This book was just not "it" for me. And I'm definitely in the minority on this one, as while there are other critical reviews, the majority tend to lean towards the favorable. If this sounds like something you'd like, I'd encourage you to give it a try, with the advisement that it does involve past bullying and present-day angst over sexuality.
Author Bio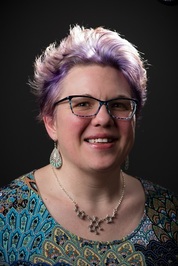 Frequent tweeter, professional grammar nerd, and obsessive reader, Annabeth Albert is also a Pacific Northwest romance writer in a variety of subgenres.
Emotionally complex, sexy, and funny stories are her favorites both to read and to write. In between searching out dark heroes to redeem, she works a rewarding day job and wrangles two toddlers.
Buy links
Bookshop (affiliate link)