Oliveras, Priscilla. Anchored Hearts. New York: Zebra Books, 2021.
ISBN-13: 978-1420150193 | $15.95 USD | 352 pages | Contemporary Romance
Blurb 
Sparkling with humor, romance, Latinx culture, and the unique island energy of Key West, Florida, the acclaimed Keys to Love Series by USA Today bestselling author Priscilla Oliveras is the perfect summer read. Sparks fly for a second time when award-winning photographer and prodigal son Alejandro ends up back home, forced to face the familia–and the girl he left behind–for the first time in years. Can these two Key West natives learn to put away old hurts and embrace a new future under the tropical sun?
"A big-hearted, beautiful book about first love, second chances, and finding one's place in the world. An exceptional getaway of a book!"—Emily Henry, New York Times bestselling author of Beach Read
"Anchored Hearts has it all: undeniable chemistry, believable roadblocks, a heartwarming world, and a lush Key West setting that leaps off the page. Alejandro and Anamaría's love story is not to be missed!"—Mia Sosa, USA Today bestselling author of The Worst Best Man
A PopSugar Best Romance of April
Key West is the ideal backdrop for the summer read you need! Perfect for fans of Abby Jimenez, Jasmine Guillory, and Jen DeLuca, this gorgeous and stirring new love story from the author of Island Affair will touch your heart…
Award-winning photographer Alejandro Miranda hasn't been home to Key West in years—not since he left to explore broader horizons with his papi's warning "never to come back" echoing in his ears. He wouldn't be heading there now if it wasn't for an injury requiring months of recuperation. The drama of a prodigal son returning to his familia and their beloved Cuban restaurant is bad enough, but coming home to the island paradise also means coming face to face with the girl he left behind—the one who was supposed to be by his side all along . . .

Anamaría Navarro was shattered when Alejandro took off without her. Traveling the world was their plan, not just his. But after her father's heart attack, there was no way she could leave—not even for the man she loved. Now ensconced in the family trade as a firefighter and paramedic, with a side hustle as a personal trainer, Anamaría is dismayed that just the sight of Alejandro is enough to rekindle the flame she's worked years to put out. And as famillia meddling pushes them together, the heat of their attraction only climbs higher. Can they learn to trust again, before the Key West sun sets on their chance at happiness?

"Vibrant…A stunning romance of first love found again."— Kirkus Reviews STARRED REVIEW
"Oliveras' portrayal of family and social media ties are reminiscent of Alisha Rai's romances." – Booklist STARRED REVIEW
In the series
Review
3.5 stars
I received an ARC from the publisher and am voluntarily posting a review. All opinions are my own.
Anchored Hearts is the second in the Key West-set Keys to Love series. It can work as a stand-alone. Once again, Priscilla Oliveras brings her signatures of culture and equal focus on familia and romance to the table, and while I wasn't blown away by this one (having similar issues as I did with the first), it's still a fairly enjoyable read.
While I can't say I found the romance super memorable, I did like both Anamaria and Alejandro. They have a pretty straightforward second-chance romance: the relationship fell apart due to choices they made years ago, and are now older and wiser, yet still have feelings for each other.
The family dynamics are also great, and informs the romance in a compelling way. Anamaria has shown her devotion to her family by giving up on her and Alejandro's shared dreams to care for her father following his heart attack and is now a firefighter like others in her family, while Alejandro is contending with the fact that he is returning to his family injured after leaving on somewhat bad terms.
This is a fairly lighthearted read, perfect for the warmer weather of spring and summer. If you love a sweet contemporary romance, you'll surely like this one.
Author Bio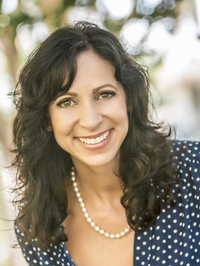 PRISCILLA OLIVERAS is a USA Today bestselling author and 2018 RWA® RITA® double finalist who writes contemporary romance with a Latinx flavor. Proud of her Puerto Rican-Mexican heritage, she strives to bring authenticity to her novels by sharing her Latinx culture with readers. She and her work have earned praise from the Washington Post, New York Times, Entertainment Weekly, Redbook, Publishers Weekly, and Booklist, among others. Priscilla earned her MFA in Writing Popular Fiction from Seton Hill University and currently serves as adjunct faculty in the program and teaches the online class "Romance Writing" for ed2go. While she's a romance genre junkie, Priscilla also considers herself a sports fan, beach lover, and Zumba aficionado, who often practices the art of napping in her backyard hammock.
To follow along on her fun-filled and hectic life, visit her on the web at https://prisoliveras.com/books/, on Facebook at www.facebook.com/prisoliveras, or on Twitter and Instagram via @prisoliveras.
Buy links
Bookshop (affiliate link)
Love's Sweet Arrow (inc. signed bookplate and recipe cards)